Lose the Stomach Pooch!
Seeing Diana Nyad's swimming accomplishment over the weekend got me in a fitness mood. You all know from my previous posts (here, here, and here, just to highlight a few) that I love cooking and eating tasty food. We eat healthy at home and enjoy treats. My priority is to fit in my clothes I have, and sometimes that is a challenge when I overeat or eat something that bloats me out (like too much bread or pasta). But even when I don't do those things, my stomach seems bigger after I eat. I've often wondered why does my stomach pooch out after I eat? A little research online gave me some answers. I'm sharing them with you in case your stomach pooches out too!
Bonnie Pfiester over at PFITblog showed me how to figure out what is causing my stomach to pooch. Sure is helpful to know the cause of the problem before trying to solve it!
So you have a belly. What type of belly do you have? Before you can figure out what you need to do about your belly, you need to figure out what your problem is.

1. POOCHY BELLY: You don't have good posture. How many skinny girls have you seen walking around with their belly hanging out? People would look SO much thinner if they just stood up tall and held their stomach in tight. Lazy posture makes our stomach pooch out, making us look even heavier than we are. The more we practice good posture, the easier it gets to maintain it. To see if posture is affecting your physique, walk up to the mirror, turn sideways (without looking at the mirror) and maintain your normal posture. Then stand up straight and tighten your tummy. If you see a big difference in the way your stomach looks, then you probably need to work on strengthening your abdominal muscles.

2. POT BELLY: You eat too much. I'm not talking about calories here, I'm talking about portions. If you eat gynormous portions (which is basically the amount of food you get anywhere you go), that food has to go somewhere. If all those meals stay in your gut for three days (typical digestion time), then think about ALL the food you have eaten in 3 days -no wonder your stomach sticks out. Since your body only can use so much food at one time, reduce portion sizes to the size of your fist. You can eat more often, but try not to eat so much at one single sitting.

3. FAT BELLY: You eat too many calories. If you can "pinch and inch" or more, you are likely just eating too many calories. If you eat more calories than you burn, that food is stored where your body likes to store it. Unfortunately, we can't choose this. Some people store fat on their hips and thighs, while others store it around their midsection (like me!). The only way to lose this fat is to reduce caloric intake and increase caloric expenditure. You certainly can do crunches, and other abdominal work, to improve core strength and posture, but doing abs will not get rid of the fat.

4. WEAK BELLY: Your abdominal muscles are weak. If you find it's work to suck your tummy in or to do a crunch, most likely you need to strengthen those muscles. By strengthening your abs, you are able to support your core and hold your stomach in with ease. The stronger and tighter your stomach muscles are, the smaller and flatter your tummy will look. Think of strong stomach muscles as a brand new girdle. The stronger and tighter the "girdle" the smaller you will look all the way around!

Although one of the above issues may cause you more problems than another, working on all 4 of these issues can give you ultimate results.

SOURCE: PFITblog
Sounds like I have a combo of posture pooch and weak belly…
Sitting at the computer all day can lead to poor posture. One way to change my posture is to get up and walk around at least once each hour, making sure I stand up straight (head up, chin in, shoulders back, stomach in, feet straight forward). Another is to ensure my chair, desk and monitor are at the correct height. Easy changes to make!

To address my weak belly, I have concerns over the standard "crunch" workout. When I do crunches my stomach pooches MORE. What's that about?!?
My research for crunch alternatives led me to learn more about a condition that many women experience postpartum. Crunches are NOT the answer.
I had two children two years apart, and during both pregnancies my abdominal muscles separated. It takes a while for the abdominal muscles to come back together after delivery. This is called diastasis recti, or "mummy tummy" and is quite common for moms to experience.
How can I tell I have diastasis recti?
Following the recommendations in Julie Tupler's Tupler Technique, I checked how far apart my abs are and got 2.5 finger widths. Not bad, but enough to know there is still a separation that could be causing my pooch!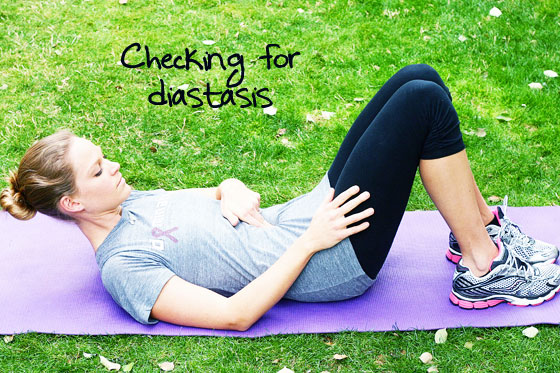 What abdominal exercises CAN I do??
Julie created safe exercises for diastasis recti in the "Crunch Free Abs" diagram below. This graphic was featured in Real Simple magazine in February 2012. Access it on her website here.
Another great resource from Julie Tupler is her campaign to "Check Your Belly Before You Wreck Your Belly"(TM). She is so passionate about helping people heal their bellies she even provides a nurse's note excusing adults and children from doing traditional crunches and planks.
"When your belly gets worse or won't go away with exercise, it may not be fat. It may be your organs sticking out," said Julie Tupler, RN, the creator of the Tupler Technique® and President of Tupler Inc. "Checking your belly for a diastasis before starting your New Year's fitness resolution may be one of the smartest things you can do for yourself because it may help stop you from wrecking your belly… If you know you have a diastasis, then there are certain exercises to avoid because these exercises may make the belly even bigger. When the abdominal muscles separate the connective tissue stretches sideways and becomes weaker. When you do planks and crunches, you are creating intra-abdominal pressure that pushes against the connective tissue. This force makes the separation larger. Trauma to this abdominal connective tissue can tear it away from the muscle and cause a ventral hernia."

SOURCE: DiastasisRehab
I'm so glad to learn there are solutions to why my stomach pooches out after I eat! Here's my plan:
Be conscious of my posture while working on the computer. Get up at least once an hour to stretch.
Monitor my portion sizes–keep servings about the size of my fist!
Print out the Tupler Technique exercise diagram and post it where I'll see it daily as a reminder to DO the ab exercises.
Leave a COMMENT below with your PLAN to prevent your stomach pooching out! :-)
***PLEASE consult your doctor and/or personal trainer if you have any questions on your abdominal muscles and/or BEFORE you begin exercises. I am NOT a doctor or personal trainer and can only speak from my personal experience. Be safe!
Is a Personal Trainer Expensive?
They can be. Personal trainers can be pretty expensive, especially if you find a good one committed to helping you reach your goals.
Did you know you can make some extra money just by sharing your stories? By blogging? And by posting videos? You can. I'm getting paid to write blog posts. I blog about whatever I want, just like the article you just read, and make money from it!
If you have a passion or interest, you can GET PAID to share YOUR opinion. By spending a little time each day writing a blog post, you can make some extra money and help others by sharing valuable information!
Be sure to click on the link below and watch the video to see why I chose Empower Network as my preferred blogging platform. It's great to earn extra income online as well as get your posts ranked near the top of Google!
Think about it. How did you find this post? It wasn't by accident
Learn More About Getting your own Viral Blogging System with Empower Network
If you liked this article, you'll love these:
- Easy Vegan Recipes
- How to Lose Weight…with an Ice Cube Tray?
- 3 Reasons Why People Fail
- Copy What the Successful People are Doing
- Could You Swim from Cuba to Florida Keys at 64?